by Orlando Fuentes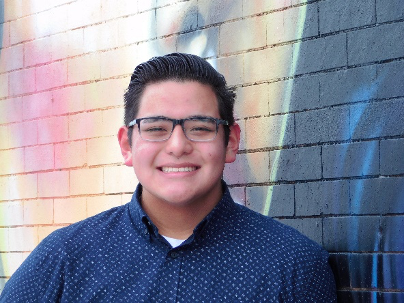 Orlando Fuentes is a first-year college student from the Des Moines area, majoring in Law Politics and Society and music performance. He is a member of the Engaged Citizen Corps Program (ECC) at Drake where he serves with Proteus, Inc.
Proteus, Inc.
Proteus, Inc. is an Iowa-based private, 501(c)3 nonprofit organization that has been serving migrant and seasonal farmworkers, immigrants, and others since 1979.
The work: As a nonprofit, Proteus specializes in providing migrant agricultural workers and their family with affordable healthcare, education assistance, and job training. They operate off a vision to better the lives of these migrant farmworkers. They achieve this through several programs in Iowa, Nebraska, and Indiana. During my time working with them and learning more about the organization and the community they serve, it has become apparent to me that the root cause is the lack of affordable healthcare. That is something that can have a great impact in the everyday lives of these migrant agricultural workers. This is currently the main focal point of the work of Proteus; they help combat this by providing affordable clinics for migrant workers. But that's not all they do; they work hard to ensure they can reach as many farmworkers as possible. If someone cannot come into one of the clinics, Proteus takes the clinic to them, by providing mobile health care. This helps give access to affordable healthcare to many more migrant farmworkers. Along with providing affordable healthcare, Proteus also provides health and job safety training so farmworkers are able to safely work and look after their health, thus decreasing potential health risks.
Adapting to Covid-19: During the pandemic, like many other organizations, Proteus learned to adapt and grow. They started provided Covid-19 safety training for their farmworkers. And when Proteus started seeing that the pandemic was not only affecting the health of the migrant farmworkers, but it was also affecting the financial stability of the farmworkers, they partnered with a handful of other nonprofits to create a fund to help Latinx families who would not receive financial help from the government. This fund helped families with housing payments and time sensitive bills that were vital to the livelihoods of these families. Not only has Proteus evolved on the front lines of their work but also in the office space. They have evolved to make the workplace as safe of a place as they can make it to ensure they can continue to work and serve the communities in a healthy and safe manner. They do this by offering a hybrid work schedule that allows employees to work form home and in the office
What have I learned? During my time in ECC cohort I have learned how to really be more reflective with the work I do. I oftentimes am so busy that I finish an assignment and turn it in, and when I revise, I look at the spelling errors and grammar mistakes, but I rarely think of the intention and affect my work will have. Through conversations I have with my ECC cohort I am able to reflect on what I did and what impact it will have on the community I am trying to serve, and due to this I have learned the importance of self-reflection and self-examination when you are doing work within a community.
My role as an active citizen: Although this year has not had an impact on my understanding of my role is as an active citizen, I understand that I am in a position to create change. I can do that by voting, bringing awareness to situations that need to be addressed, and getting into positions that allow me to create policies that leave a good impact on the community I work for. But most importantly by living my life as an ally to the communities I work for. I will be able to do this by providing opportunities to other Latinx students, supporting Latino-owned business, and supporting organizations that work for the betterment of the life and education of Latinx students.
How can you help Proteus? Proteus holds long-sleeve shirt drives to give protection to farmworkers from the elements while they are working. Proteus also has a food pantry where you can donate items that these farmworkers can use for cooking. Learn more at https://www.proteusinc.net/.