by Candace Carr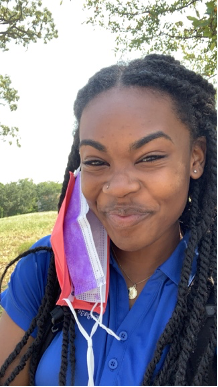 My name is Candace Carr, I am a first-year Multimedia Journalism major with a Rhetoric, Media & Social Change minor and I am a member of the Engaged Citizen Corps (ECC) cohort. From the moment I read about the ECC program my senior year, I knew I wanted to give it a try. Now, five months and nearly 170 hours served completed, this program has provided me robust opportunities to critically think, gain meaningful action items for community service, and get to know the Des Moines community for myself.
This year, I have had the incredible opportunity to be partnered with Children & Family Urban Movement (CFUM). CFUM is a non-profit organization that seeks to improve educational accessibility, minimize food insecurity, and bolster family support through a variety of programming and direct services in the River Bend neighborhood.
At CFUM, I serve as the Youth Program Coordinator where I create and implement weekly club programming for the K-5 students we serve. In my position, I have learned and (continue to learn) about the students' many interests, connect with other organizations and hold enrichment clubs for the CFUM students. As we all continue to confront our "new normal", I have regularly run into the national shift in short staffing in a host of fields. At times, it has been difficult to connect with outside groups, yet the incredible staff at CFUM have been so supportive of my many ideas and my impromptu hallway dance parties with the kindergarten and first graders.
Additionally, I provide another set of hands for site leaders of each grade-level group after school and on full-program days, occasionally set up daily snacks, work on organizational social media and help clean up at the end of each night. While I take on a host of responsibilities at my service site, I enjoy every little moment of classroom noise, playing frisbee or tag with the students during recess, and watching students enjoy just being kids. CFUM in all its facets runs so well because each staff member holds an understanding that these students simply deserve a space that is not only theirsbut a space where they feel safe to be the best version of themselves.
As noted prior: CFUM's mission of empowering youth and family is best accomplished through the following programs:
The Haven (K-5 Afterschool): Here, I get to spend time with students, provide the weekly club programming, and help with anything staff members need. CFUM's strategic afterschool programming meets a host of needs from the families of the Moulton Extended Learning Center community.
Safety: CFUM takes place inside the Moulton building and next door in Trinity Church.
Accessible hours: Haven programming takes place from school dismissal to 5:30 p.m. Allowing parents to pick up their children at hours in alignment with their work schedules
Tackling any food insecurity: Students receive snacks and dinner every day
Breakfast and Supper Clubs: External volunteers primarily lead the preparation of breakfast and dinner. Here, CFUM families can drop off their students earlier in the mornings, where their students receive a nourishing breakfast and are walked next door to begin their school day. The same process happens each evening as students are winding down their days during Haven programming.


Des Moines Networking: Daily and weekly donations from local businesses and organizations (i.e., HyVee, Target, etc.)
Neighborhood Connection: All members of the neighborhood (not solely CFUM families) are welcome to receive breakfast and dinner
Awesome Summer Days: CFUM also provides all-day programming for grades K-6 during the summer session. Students are once again provided with snacks, meals, field trips, and themed weeklong enrichment activities.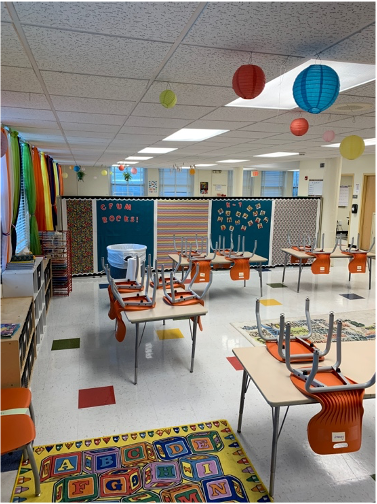 Many of the social issues CFUM seeks to approach and directly address come from communities lacking a fundamental understanding of the intersectional issues families face.
Racial or ethnic discrimination
Socioeconomic barriers
Language barriers
Lack of access to childcare
Living within food deserts
These families deserve a good quality of life for themselves and their families (objectively so). By providing food support, afterschool and summer programming, families have fewer items on their already full plates. For children in various marginalized communities, so much of their childhood may be robbed from them because of issues far beyond their control. Through CFUM creating and cultivating intentional spaces, students can focus on things in their control like finding the perfect lego to complete one of their masterful tower creations.
From my time in the ECC, I have grown a deeper understanding the Social Change Ecosystem Map and a greater appreciation for the city of Des Moines. Our communities are rich in narratives and experiences that are deserving engagement.
Community organizing should never compete. We need all these communities:
"What I'm speaking of is our ability to hold space for one another, to empathize, to make time for connection, to care for another, to be part of one's another's lives." (How We Show Up: Reclaiming Family, Friendship, and Community, Mia Birdsong, 20).
Des Moines Area Regional Transit (DART Buses): An incredible way to get to know Des Moines and those that call it home
CFUM is a place I will carry in my activism, educational experience, and beyond.
For more information on CFUM's work and mission:
Website: https://cfum.org
Instagram & Twitter: @cfum_dsm
Facebook: Children & Family Urban Movement