Hello all!
My name is Hannah Smith and I am a new member of the 4-H Iowa State Extension and Outreach community and have never been so excited! I started working with 4-H around the end of August of 2017. I have been working mainly with Tiffany Berkenes, a Youth Program Specialist, as my supervisor, and I have been having a great experience so far. I am a part of a small program at Drake University called the Engaged Citizens Corps, in which we work with a number of non-profits and learn mainly what it means to properly serve. I'm originally from the south side of Minneapolis where I was born and raised and now I am a member of the Drake University community. I am a first-year student with an Elementary Education major and a minor in Spanish.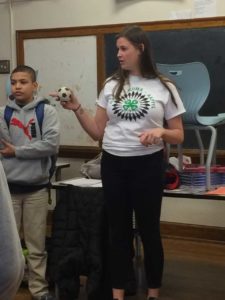 During my time so far at 4-H, I have had the opportunity to work with multiple afterschool programs in Des Moines including Hillis Elementary, Harding Middle School, and Callanan Middle School. I am so blessed to be able to work with such a diverse amount of kids coming from all types of backgrounds. This has helped increase my awareness and ability to work in situations that aren't necessarily in my comfort zone. I am grateful to be able to work in such an inclusive community. In addition to working with a number of schools I had the opportunity to participate in the 4-H Ujima Retreat at the beginning of my service, which was an awesome experience where African/African American and Asian/Asian-Pacific Islander students were exposed to what higher education is and the doors it could open. I plan to do a lot more during my time with 4-H, including more afterschool programs, retreats, and creating a joint service project with a few Drake organizations such the APO Service Fraternity and Hillis Elementary.
A child's education is one of the greatest things you could offer – an opportunity to expand their minds and enjoy all the light it can bring to certain situations. In many under privileged areas education is not emphasized as it should be and the children miss out on reaching their full potential and the future they truly deserve. What my goal is as a beginner educator and role model is to show these kids how fun learning can be and aid them in finding their passions and showing them the steps to reach their goals. This will not only show them what they are truly capable of but also create integrity, grit, and leadership. To teach that when things get hard, it doesn't mean it's time to give up but to work harder than they did before. A lot of the work I do also gives them light on our current events and history. For example, I recently did a lesson on both Black History month in February and International Woman's Day in March. I believe it is important for the kids at a young age to understand what environment they will be encountering on their journey toward the future.
I hope to serve for a higher purpose and continuously aid in creating happier and healthier communities. I am proud to say 4-H and the Engaged Citizens Corps have been the start of a long line of service and internal growth.
Written by: Hannah Smith