by Rylee Beardsworth
Have you ever been splashed by an orca during a show at Sea World? In the third grade, I had the amazing opportunity to do this in San Diego, California and I have been hooked on the aquatic sciences ever since.
Hi, my name is Rylee Beardsworth, and I am a first-year student at Drake University, studying Environmental Science. I grew up going through the Catholic School system, so service has been an important value in my life since I was younger. Due to this, the Engaged Citizen Corps program stood out to me and was a huge reason I chose to attend Drake University. Going into college I knew I wanted to continue participating in service, but I was lost on where to start. This program is a wonderful way to get your start as it gives you structure and, in my case, allowed me to do it in a field I have always dreamed of being apart of.
Who is Iowa Rivers Revival?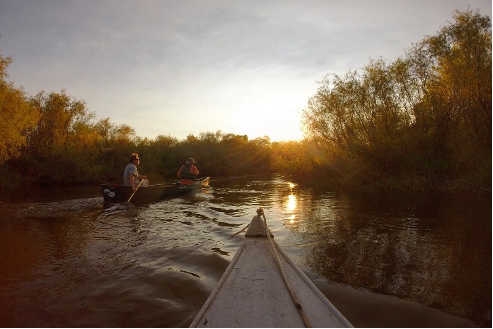 The site I was paired with through this program is Iowa Rivers Revival (IRR). It is a statewide nonprofit leading Iowans to protect, restore, and enjoy our rivers. We envision healthy, free-flowing rivers that connect Iowa's communities and provide access for all to use and enjoy. We work toward this vision through many priorities such as:
education and advocacy programs
being nonpartisan
inclusive and collaborative
increasing free-flowing, healthy rivers for recreation opportunities and safe drinking water
IRR has been a nonprofit since 2009 and they have been doing wonderful work toward their vision, but they have been constrained in their work due to scarce awareness of the organization. This shortage is where I come into play! I have worked closely with our new Executive Director, Luke Hoffman, to rebrand the company to be more recognizable, redo our website to be more mobile friendly, participate in outreach work by designing social media posts, and assisting in planning river cleanups.
What does IRR do?
IRR and the priorities I mentioned earlier are needed due to Iowa's agricultural economy. To grow the agriculture industry, farmers began to change the natural land of Iowa to better sustain farming, create irrigation systems, and use greater amounts of fertilizer on the land. The change in the natural land of Iowa has caused streambank destabilization. The irrigation systems and fertilizers have caused a multitude of pollution problems. A lot of the rivers here in Iowa are not safe for people to recreate in or drink out of due to the major pollution that has dirtied the water. This pollution, however, does not stop in Iowa, making its way to the Gulf of Mexico.
IRR addresses these issues through programs and legislation. We have partnered with the Iowa Department of Natural Resources (IDNR) to host the Iowa River Restoration Toolbox. This is to assist Iowa designers and reviewers of stream stabilization and restoration projects by providing proven techniques that incorporate natural materials, such as logs, rocks and live plantings. These trainings will prevent the installation of practices that are unsuccessful and destructive to the stability of river ecosystems. Another program is the river clean-ups we host and collaborate on. In these, people row kayaks or canoes while picking up trash. We also focus on providing a unified voice to speak up for our rivers since they do not have a voice. We do this by staying nonpartisan and using an outside lobbying firm.
Since most of IRR's programs are outside, our quest in abolishing these problems were not halted due to COVID. They were slowed down as fewer people wanted to meet in a large group of strangers, but in the last few months, more people have been signing up for clean-ups and the Toolbox.
What this experience has done for me
This internship has been my first real-world job experience as I only tutored in high school, so this experience has truly been a life-changing one. Through the different projects I have been given (some of which were out of my comfort zone), I have developed the following useful skills:
Communication – learning to ask questions and communicate when I do not understand something has been a pivotal point of this internship.
Time management – balancing 16.5 credits and 10 hours of this internship seemed very daunting in the beginning, but my improved time management skills have made it possible for me to do this.
Confidence – as I said some of these projects were out of my comfort zone, but in getting finished projects approved, my confidence has increased significantly, and I can now stand in front of our board without nerves.
These skills will not only help me in my future profession, but also in my role as an active citizen or someone who is worried about the needs of others not just their own. My improved communication skills and confidence will allow me to ask more questions about global issues happening in the world. I no longer feel awkward to ask about subjects I know nothing about. Also, my time management skills will allow me to devote the time and energy needed to my job, but also grant me time to serve the less fortunate in my community.
My biggest takeaway from this experience has been that while I have enjoyed working on more of these behind-the-scenes projects, in my future career, I would like to participate in hands-on research that leads to solving the environmental issues that IRR cares about.
If you would like to learn more about IRR or how to get involved, visit www.iowarivers.org and be on the lookout for event registrations.