By Reagan Gerry
As a kid, when I imagined what my first internship would be like, wheely chairs were the first thing to come to mind. You know the ones, the office chairs that have the child fascinating power to spin. As an adult however, I saw my internship as a good opportunity to gain office experience, though getting a spinning char was still a key highlight of my internship.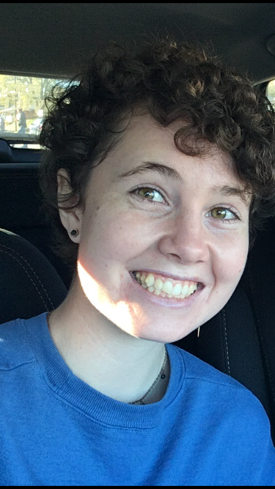 Children & Families of Iowa (the non-profit I intern with) is my first real professional "job." As such, this is my first real work experience and the skills I am building by working for this organization is what will become the foundation my skills in my professional career. Not only that, but my site is also impacting the way I view the world. Being able to see the impact that Children and Families of Iowa is having on their community is one thing, but being a direct part of that impact, personally having the chance to change lives changes one's whole world view.
What is Children & Families of Iowa?
Children & Families of Iowa (or CFI for short) is a nonprofit organization that works to improve the lives of families and children throughout Iowa with their different service programs. These service areas are Mental Health, Domestic Violence, Substance Abuse, Early Childhood Development, and Family Support. Each of these areas has a number of different service programs affiliated with them. These services range from awareness programs like their Prime for Life Substance Abuse Diversion program for teens, therapy programs such as their Child-Parent Psychotherapy, and assistance programs including their Financial Management Services program. With all these different programs, CFI is able to serve a wide variety of community needs. CFI is also given a plethora of In-Kind donations. These donations range from paper products, toiletries, food donations, and more recently handmade face masks. Our organization then organizes these supplies, and uses them either in accordance with one of their programs or gives them out in a supply drive. During a supply drive, supplies are organized into categories and distributed to those waiting. All in all they are a non-profit that aims to improve the lives of children and families through Iowa.
What is it I actually do?
Well, the projects that I have been working on mostly involve either manual labor, sorting physical donations or file updating. By making phone calls, updating files, and arranging manuals, I am actively working to build the organization. Children & Families of Iowa is an older organization; it has outdated policies, files, and programs. Through my work, I am working to bring the organization up to speed and build it up. My administrative work actively builds company information, event attendees, and organizational material.
And of course, as any cliche movie shows, I have my own cubical complete with spinning chair, outdated phone, family photos that are not mine, and a copying machine that allows me to constantly interact with staff. Though I do note we don't have a communal blue plastic water fountain.
Did you gain anything from interning there?
Yes, I have. Not only has CFI expanded my definition of what it means to do non-profit work, but it also allowed me to gain some useful skills. Need more proof? Here are some of the skills I gained as part of my internship experience:
My newfound Microsoft EXCEL abilities (I am now capable of making a graph without the help of YouTube)
My Self Discipline has improved as I now schedule out when I'm going to work on my project, clear everything off my desk to avoid distractions, put on some power music and get to work
Calling people on the mailing list and giving them my thirty second speech has also turned down my anxiety towards social interaction and rapidly improved my communication skills
What is the point of these skills? The skills I have developed as a result of my internship will help me be a steward of the common good in the more behind the scenes ways. I'm not a fan of the spotlight (which seems counterintuitive since I'm writing a blog), and while I do love to work hands on with students and volunteers, I also enjoy working on the administrative side of things. One of the main things I gained from CFI was an expansion of my idea of non-profit work. When people think of volunteer or community work, they often think of the smiling faces of volunteers handing out supplies that have direct contact with those they are serving. Most forget that in order to run a successful non-profit organization or plan a community event, there needs to be someone taking care of the behind the scenes tasks. These involve planning meetings, spreadsheet data, manual event set up, social media alerts, flyer set up, and countless phone calls to gather material donations. While my new EXCEL and self-discipline skills might not be overly helpful in the hand-to-hand service, I can make great use of them in helping run the events or organization. See, the skills I've learned from my internship are helpful!
How CFI changed my life?
Through my experience of working with CFI I have learned much about not only myself but non-profit work as a whole. While I still fully intend on becoming a history teacher, I now plan to become more involved in my community and become an active volunteer in my local non-profit's. With my spinny chair as my steed, I will continue to work to help CFI make an impact on the lives of children and families across Iowa.
If you want to know more about CFI or see how you can get involved, check out their website link here: https://cfiowa.org/