Sydney Rottinghaus, Engaged Citizen Corps Member
A year ago, I decided to interview for the Engaged Citizen Corps (ECC) program at Drake. This decision has shaped my first year here to be more impactful than I would have ever thought. Within the Engaged Citizen Corps, I was very fortunate to be paired with St. Vincent de Paul (SVDP) this year. Alongside this experience, I am also involved in Women in STEM, Greek life, the Donald V. Adams Leadership Institute, and Student Alumni Association. In addition to my involvements, I am majoring in Environmental Sustainability and Mathematics on the Pre-Engineering track.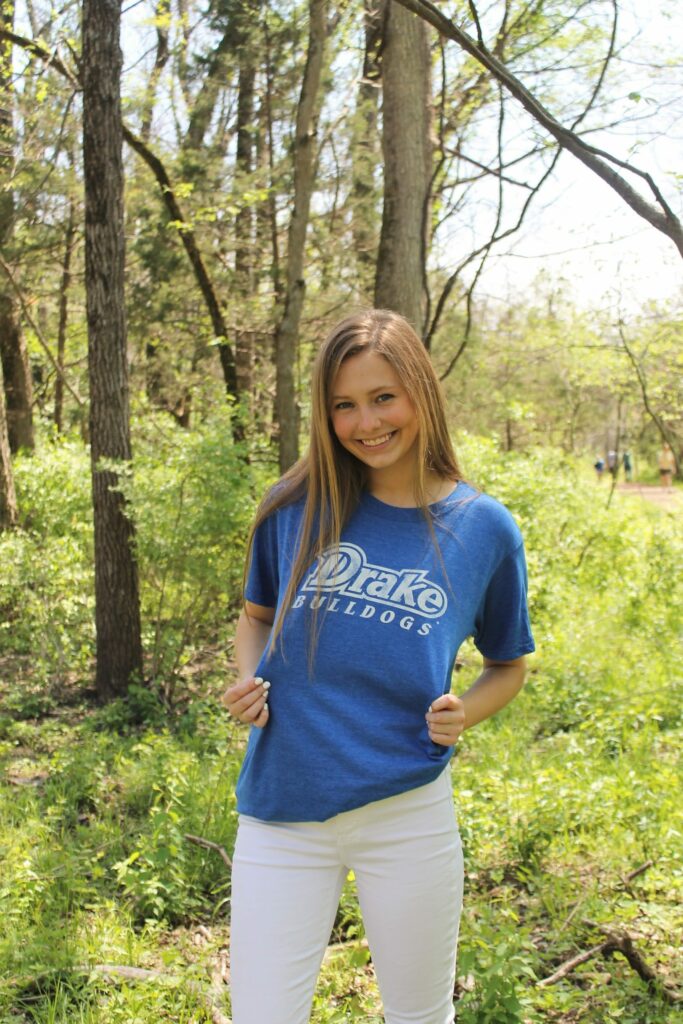 St. Vincent de Paul provides social services and educational support to "over 33,000 Iowans per year." SVDP also has two thrift stores in Des Moines. Through their efforts, SVDP is working to build a more sustainable future for both those who receive support and the environment. They focus on supporting the community members in a way that benefits them in the long and short term. Also, through their thrift store they reduce the amount of textile waste that reaches landfills. My role as an ECC member is to support this organization in a variety of aspects. Through the first semester here, I have conducted research on best practices, aided in transitioning their educational program online, and analyzed data. In the coming months I am looking forward to seeing my work begin to be implemented to benefit the organization.
Through discussions at my site and in the course Toxic Charity, which runs alongside this program, I have been exposed to social issues in a new depth. The core social issues I have learned about are workforce barriers and food/clothing insecurity. In my work moving their programs online I was able to learn about SVDP's Back 2 Work class. This program is in place to help those struggling to reenter the workplace. Through lessons like resume workshops and interview tips, participants are taught skills to help them prepare for a job. At the end of the program the goal is to have participants in an internship or job to lead to full employment. This program is designed to reduce some of the barriers that people face when entering the workplace. Access to technology can have a big influence on if people are able to find work. This barrier prevents certain socioeconomic classes from securing a job because most applications are online. Another challenge I have observed is finding transportation to work. Covid-19 has exacerbated these challenges due to many public resources, such as the library, being closed. Through the Back 2 Work program participants can gain support from SVDP to devise solutions for some of these challenges.
Alongside moving the educational programs online to ensure safety of all participants and administrators, Covid-19 has altered other services of SVDP. To reduce in store contact, they have required masks of all visitors and previously limited occupancy. Additionally, they have added curbside pickup of items from the food and clothing pantry. This means that employees/volunteers are packaging the items for the recipients and bringing it outside.
Working at SVDP has been both eye-opening and vital to the development of my workplace skills. Being aware of what is happening around me has become a bigger priority of mine due to this experience. My office work here has also expanded my skills in excel, virtual communication, and virtual educational programs. Outside of SVDP the ECC program has improved my critical thinking skills through the required courses. With these skills developed, my confidence has been raised and I feel more apt to take on challenges. The information I have learned regarding a vast variety of social issues will also prepare me to be a better steward for the common good. This knowledge will help me confront injustices that I see. While I am still planning on going into engineering, this experience has made me look at social issues within that field. I am now hoping to have a career that can help address some of the environmental injustices faced by certain communities. I think the knowledge gained in both ECC and in my major will prepare me to achieve this goal.
Reflecting on this experience makes me very excited to continue to push myself out of my comfort zone. Trying new things and focusing on other perspectives are the two main lessons I will take from this experience. While I feel more confident with my role, being aware of the areas I do not know about is vital to my overall success. Actively looking for other ideas that could expand my viewpoint and awareness is key to moving forward as an active citizen. The searching act is what has transitioned my role as a citizen from passive to active.
To learn more about the efforts of my organization visit http://svdpdsm.org/ . This website also includes information on how to volunteer and support the mission. Volunteers are placed based off their interests and skillsets.