Scout Neely, Engaged Citizen Corps member
For the past six months, I have been lucky enough to serve as an Engaged Citizen Corps intern at Children and Family Urban Movement, known more popularly as CFUM. As our website states "The mission of CFUM is to create a community that supports the potential of children, youth, and families through educational success, healthy living, and community engagement."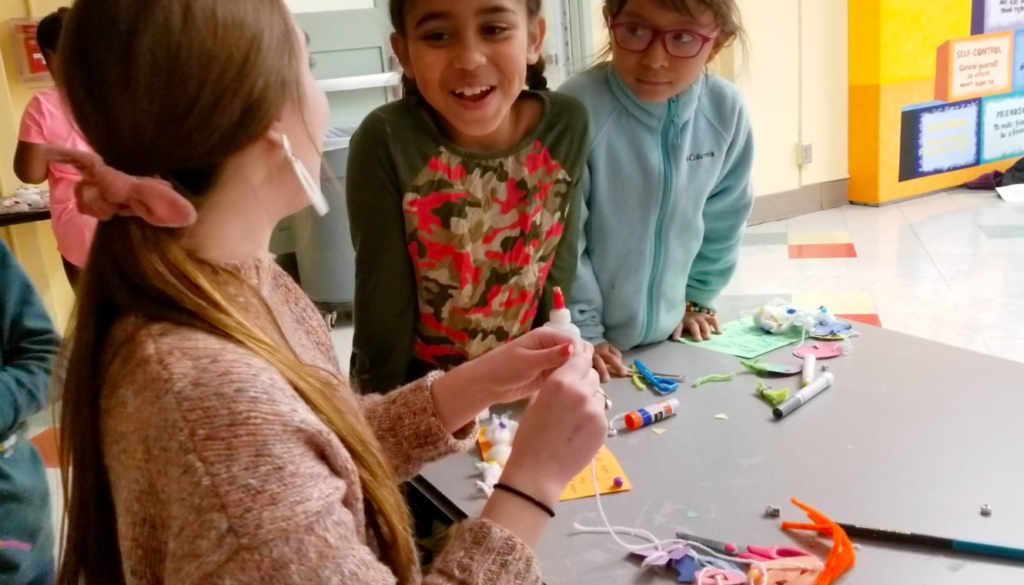 Currently, my role at CFUM is split between office work and working directly with the children.  In the office, the majority of my job is to relieve some of the extremely heavy workload nonprofits endure. This includes acknowledgment letters, data entry, volunteer hours entry, and more. The other half of the time I am lucky enough to work with the kids in "The Haven" program.  
CFUM has three programs during the school year designed to give kids a safe place to grow in academics and make friends before and after school. The Breakfast Club, which was started in 1968 by the Black Panthers, provides a safe and consistent environment, welcoming and nurturing relationships with adults and peers, a nutritious meal, and a variety of purposeful activities. Kids who attend the Breakfast Club start their day off right with a healthy and delicious meal paired with a safe and nurturing environment. The second is The Haven, afterschool programming for children in grades K – 5 focused on literacy, leadership, and building the skills, attitudes, knowledge, and experience that prepare students for the present and the future. On Fridays, my role at The Haven is to help the staff members and to coordinate crafts for the kids, providing a creative output to those who are interested. CFUM likes to give the kids a slight break from school and other responsibilities by making Fridays "Fun Fridays." The kids usually get an option of the game room, crafts, and a movie. The third program, Supper Club, is not limited to the kids enrolled at CFUM but also welcomes any members of the community. Supper Club provides a welcoming environment with a healthy meal five days a week to anyone, any age. 
For some of the kids, our little space in the basement of Trinity Las Americas is the only safe and enriching environment they have. Not to mention, there is always plenty of food. When the Black Panther Party started the Breakfast Club they understood that a hungry child cannot learn and that many working families can't afford afterschool programs and need a safe place to take their kids in the morning. 
A huge component of The Haven, and even Breakfast Club, is helping kids retain learning from school. Monday through Thursday after school programming begins with academic time, mainly centered around reading, followed by some recreational time. Up until third grade you are learning to read, after that, you should be reading to learn. It is vital to make sure kids get to that level so they can keep up with their peers. This is something CFUM focuses on heavily. Data from the 2011-12 school year showed that 50% of Moulton Elementary School students were reading at grade level while 80% of the CFUM kids were. This shows the clear results the work at CFUM does to literacy. 
One of the greatest things I have learned from CFUM is the mechanics behind non-profits. Non-profits are all around us and can be found in almost every community. They serve as the somewhat silent backbone of society. Working in the office at CFUM alongside some amazing community leaders has taught me how non-profits do the amazing work they do. Donations from a wide array of people and organizations work together with government grants and regulations to keep it afloat. Along with this, my internship has trained me in simple office tasks such as filing, data entry, organization, letter writing, mailing and so much more. These are skills that are needed when entering the workforce. 
However, I think the most important thing I've realized while working at CFUM is the need for role models who are consistent and look like the kids. One staff member, Terrione, is a great example of this. The kids all look up to him and see him as an example to live up to. Members of Drake's Coalition of Black Students are also great volunteers. These are students not just in college for athletics but to receive an education that will lead them to their career goals. I am also beginning to understand the importance of repeat volunteers, especially when it comes to our literacy program. At CFUM our goal is to give every kid a reading buddy, someone who comes any time of the week during The Haven and reads with the same child. This one-on-one mentorship allows that child to grow in academics and be nurtured by someone who is solely there for them. One-time volunteers are always helpful and we certainly need any volunteer we can get but it provides more service to the kid who needed it for a class than the student at CFUM. Consider being an ongoing volunteer, CFUM would love to have you!  
In all, my internship at CFUM has made my first year of college phenomenal. The people I work with and report to have been so welcoming and not only do I learn so much from them but I also look up to them, hoping one day I can follow in their footsteps as community leaders.