Hunter Jimenez, Engaged Citizen Corps Member
My name is Hunter Jimenez and I am originally from Gilbert, Arizona. I came to Iowa to start college at Drake University last fall. I am a Political Science and International Relations double major. I continue to receive a lot of questions on why I traded palm trees and a forever summer for the land of corn and caucuses. Well, because it is "First In The Nation!" in electing the President and I was impressed with Drake's reputation as an institution and Iowa's political environment.
I originally applied to the Engaged Citizen Corps because in high school, I served my community and it made sense to continue doing that in college. Through the ECC, however, I learned that my understanding of service was very superficial. The program made me realize that in the past I was more focused on counting hours than making measurable real change. The ECC taught me that being engaged with any community is about fellowship. Hearing what people need instead of telling them what they need, and creating sustainable solutions for long- term problems instead of shortsighted ones.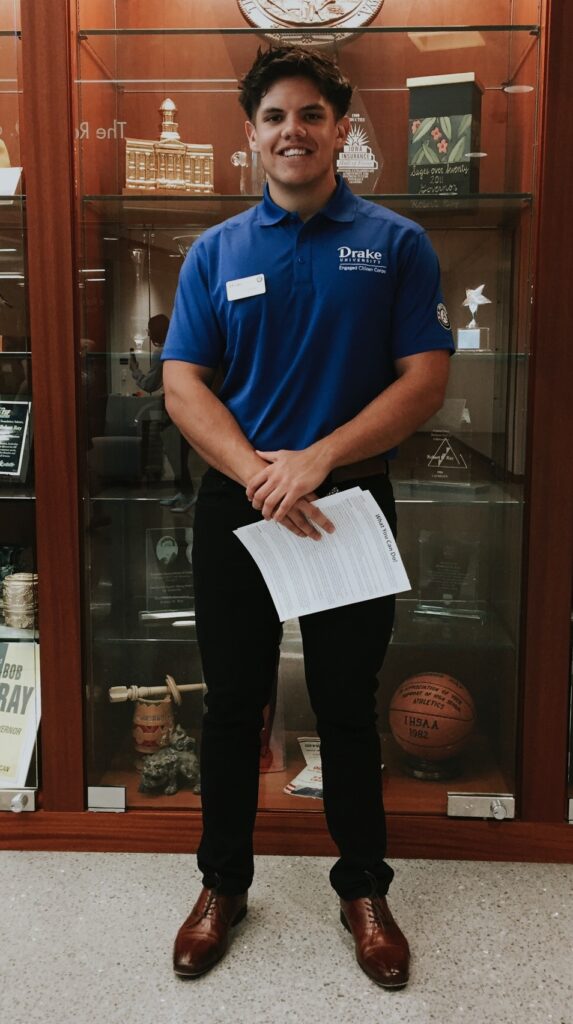 A few weeks into the semester, I began my internship with Anawim Housing and it has been a joy since. Anawim is a nonprofit in the Des Moines community that specializes in helping people experiencing homelessness housed through their Permanent Housing Program.
I have always been a proponent of social justice which is a symptom of my culminating experience in high school as an Anti-Defamation peer trainer. In addition to that, I also love to learn more about issues that I am not completely knowledgeable about. The political culture today tells us that homelessness and people experiencing homelessness are a threat. Popular opinion says that people experiencing homelessness are facing those circumstances because of their own choices.
In the short time I have been with Anawim, I've learned that poverty is more precarious than what most people believe. Some of the institutional mechanisms that are supposed to bring people out of homelessness may be keeping them there. If you're someone who was born into the bottom 10% of earners, you are almost 20 times more likely to be incarcerated than people born into the top 10%. Essentially, "too poor to pay" legislation has criminalized vulnerable communities and especially housing insecure people. Imagine that anywhere you try to sit down, you are threatened to be arrested if you do so. In some ways, this is how people experiencing homelessness are treated by municipalities. We want our cities to look nice but at the expense of excluding those most disenfranchised by pushing them further and further outside our borders.
Joining Anawim has invited me into the process of reconciling these grievances by transitioning people into a home of their own. My favorite part has been the process after someone is housed by being a part of Full Circle. Full Circle is a peer-mentorship program Anawim offers to its tenants and in addition to that, we also invite speakers to come in and share information about a broad variety of topics that will benefit our tenants. I could write a book of anecdotes about all the experiences I have had being able to engage with our tenants.
Most of what I do is volunteer coordinating. It requires reaching out to community partners and inviting them to engage with our nonprofit. As someone who is not familiar with Des Moines, this has helped me network with different organizations in the area and connect our clients with leaders in the community.
Collectively, we've shared our lived experiences, heartbreaks, and greatest victories. I feel a lot of pride to be welcomed into such a personal environment where empowerment of each other takes place.