Mya Pozzini, Engaged Citizen Corps member
Looking back a year ago, I was in my room filling out an application form for a program called Engaged Citizen Corps. I remember thinking that working with a non-profit during my first year of college would be a super cool way to get to know Des Moines, as well as help the community.
Boy, was I right!
You may have heard the familiar saying "there are people starving in Africa" when you fail to eat all of your dinner. Growing up, like every kid, I hated my veggies. Because of this, I would often hear this phrase said by my parents, which led me to believe that there were only starving people in Africa. Now that I am older, I understand that's the farthest from the truth.
Food insecurity is not an issue that is unknown to the world. Many non-profits serve to solve this issue; one example being Feed My Starving Children. 
While most Americans know about world hunger, many Americans don't know about the food insecurity issues in their own backyard.
The Natural Resources Defense Council (NRDC) states that 1 in 8 Americans are suffering from food insecurity. In 2018, 37.2 million Americans were food insecure and of those 6 million were children. 
After learning these frightening statistics, you quickly realize food insecurity is no joke. So, where are the organizations that battle food insecurity locally?
I have the privilege to work for one of these organizations. Eat Greater Des Moines is a local nonprofit in downtown Des Moines that battles food insecurity and food waste. 
Last semester, I worked on revamping a food recovery program called Meals from the Market. This semester, I am working more on the backend of Eat Greater Des Moines' food rescue programs by collecting, analyzing, and organizing data from the programs.
So what? What does Eat Greater Des Moines do?
Eat Greater Des Moines works with multiple food rescue programs, one of them being Meals from the Market.
Meals from the Market works with volunteers at the farmer's market downtown starting in early May and ending in late October. The volunteers go from vendor to vendor at the end of the farmers market collecting left-over produce and food the vendors weren't able to sell. All this food then gets distributed to food pantries and community buildings around the Des Moines area.
Other food rescue programs Eat Greater Des Moines works with have paid drivers pick up leftover food from certain Kum & Go stores and deliver the food to several community buildings such as public schools and churches.
Eat Greater Des Moines also uses an app called ChowBank – a free service to the public- to tell locals to pick up the leftover food from catering companies. 
All of the data collected by these programs comes back to Eat Greater Des Moines where I analyze and organize it. Currently, I am working on creating a dashboard full of charts and tables expressing the progress of these programs.
Now you may be thinking, how does this help resolve food insecurity besides getting food to the food insecure?
The issue with food insecurity isn't with the lack of food. In fact, the world over produces food. Most of the food produced doesn't meet the grocery store standard of looking 'perfect' enough, so it's thrown out. Additionally, people tend to overbuy food, resulting in good food rotting inside your pantry or fridge.
So, Eat Greater Des Moines' main role is to prevent food waste and raise awareness about how harmful food waste is. Which is what these food rescue programs are doing!
So now what? How has working with Eat Greater Des Moines changed me?
Through working with Eat Greater Des Moines I have undoubtedly gained a lot of knowledge about food insecurity and am much more knowledgeable about food waste. Because of this, I am more cautious about how much food I am wasting.
I have worked with other companies and non-profits while working on the Meals from the Market program. This will help me in my future career because I now understand how to communicate and work with other people even if we don't work for the same company. 
Although my career choices have not changed due to this experience, my choices on what to do in my spare time have changed. When I am settled in my career, and if I find extra time during my day, I might start working with nonprofits in my area. What I choose to do when I retire has also changed; after my career has wrapped up, I might find it appealing to start working at a non-profit instead of being cooped up in my house with my future cats.
Not only has working with Eat Greater Des Moines impacted my life, but it has also impacted my grandparents'. When I went home from fall break, I shared my experiences with them, and they were so inspired that they started volunteering at the local homeless shelter!
If you ever get the opportunity to work for a non-profit that specializes in an issue you are passionate about Take It!! You definitely won't regret it; I know I didn't.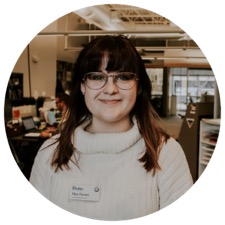 If you are curious about Eat Greater Des Moines check out their website here! If you are curious about food waste, check out my other blog post here!