Carrie Lawal, Engaged Citizen Corps member
This year I've had the opportunity to work with Willkie House, a historically Black institution focused on the development and progress of young people, as a member of Drake's Engaged Citizen Corps program (ECC). My experience working as a content manager and teacher at the non-profit has enriched my appreciation for service work, as I strive to tackle inconsistencies in early child development specifically for students of color, with their success being my only marker for success. My experiences have become invaluable and have ultimately pushed perfection in areas involving public speaking and social media marketing. Working with the kids has also helped me gain a better sense of community, as they are the up and coming future leaders of Des Moines.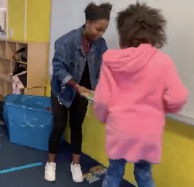 Since working with my advisor, John Douglas, I have learned the importance of well-developed communication skills. This semester especially, I have gotten comfortable texting and emailing John in order to stay on top of projects. For instance, whenever a new project or speaking point for the next meeting pops into my advisor's head, he'll send me an email or text as a reminder so that I can start thinking about it and stay on track. Upon completing these assignments, I learn more about the history and continued relevance of Willkie House. At the beginning of the semester, I had no idea that Willkie House was forever an institution devoted to uplifting African Americans specifically. Every time I see one of our kids walk through the door, the importance of Willkie House is reinforced. At first I was shy and hesitant because I wasn't really sure what I should be doing with the kids and the kids were still warming up to me; however, I have learned so much since getting to grow with them.
One thing our director implemented with the help of our academic coordinator, Gene Jewett, is the Black History program at Willkie House which stretches beyond the month of February and continues into April. The Black History program was implemented after talking to the kids at Willkie House and realizing that there was a real need to teach a history that often went overlooked in the classroom. I am excited and honored to be a part of this project because it is something I wish I would have had when I was a kid, so to go on and teach kids something so valuable, regardless of race, is so special. One of the ways I am contributing to the Black History celebration is by creating a video that highlights innovators and game changers within the Black community. In order to make sure that this is interactive for the kids, I will be bringing in speakers—former Black Panthers and other monumental Black voices—to speak to them.
ECC has given me the tools and skills in order to be successful at Willkie House. I remember in class specifically talking about the importance of understanding others' unique personality types. When I first went to Willkie House, as I stated earlier, I had trouble warming up to the kids because I am a naturally shy person; however, my instructor helped me understand that this is important for the kids to see in student leaders because some of the kids hold the same personality type as me. So, I showed those individuals that may feel shy and may be reserved that I was the same way and therefore inadvertently created a safe space for them.
I continue to take a lot away from ECC and my site because there is still so much that I discover and learn on a daily basis. I think that specifically I have learned the importance of helping out wherever help is needed and being flexible and able to quickly adapt. These are definitely qualities I can apply to my future career in the journalism field. As an active citizen, I vow to apply my teachings from toxic charity, ECC, and Willkie House to whatever my future career entails, as far as understanding individuals needs before acting and not letting setbacks limit my success. Overall, I am really glad that I continue to gain new experiences that I would never have gained if I wasn't an Engaged Citizen member because it really does help you see the deeper meaning of your actions and how big your impact can be!