By: Kirby Nelson
Over the past couple of months, I have had the opportunity to dive headfirst into the non-profit world—spending time making connections in the community, working with a variety of unique individuals, and learning more about myself and my abilities. At the John R. Grubb Community YMCA, I've had the chance to observe the intentional servitude that happens each day in their vibrant community. Each Thursday, I work with students in our GRIT (Grubb Role Models in Training) Achievers program. We provide an empowering space for youth to have important conversations about their future. Besides this youth development, I'm also actively creating, maintaining, and strengthening ties to several outside organizations within the Des Moines community. These partnerships are essential to the success of the John R. Grubb Community YMCA's youth programs by providing snacks, resources, and support.
As I've continued to get involved at the John R. Grubb Community YMCA, I've had the opportunity to learn some critical life-lessons that I will remember for the rest of my life. So, below, I present the three most meaningful things I've learned thus far as an Engaged Citizen Corps member.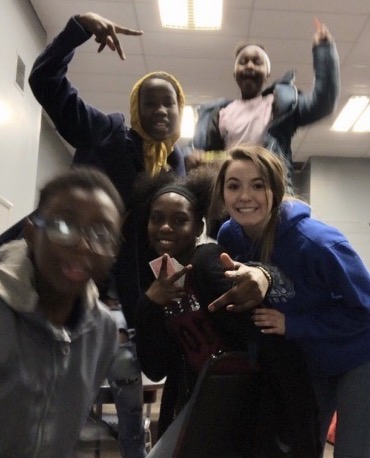 #1: Listen Closely to Everyone's Story
One of the most important life-lesson I've learned is that everyone has something important to share. During my time at the John R. Grubb Community YMCA, I have experienced many situations where an individual simply wants to be heard. Sometimes it's the middle school student who attends our after-school program to get away from home or school. Sometimes it's this high school student who fails to see a future filled with success. Sometimes it's the community leader who desires to inspire others. Regardless of their age, abilities, or goals, it has become extremely important to me to make time to sincerely listen. It's just like reading a book: it's easy to judge a book by its cover when you haven't taken the time to read its pages. Just like books, we often have no real understanding of other's situations. Without taking the time to listen, we often overlook the unseen factors—neglect, depression, or sickness. From now on, I will spend more time making people feel valued, understood, and most importantly, worth listening to. 
#2: Work with Intent & Meaning
Over the past semester, the John R. Grubb Community YMCA has allowed me to see the impact of my actions. Whether it is through my work within the community, strong relationships with our students, or honest self-reflection, I have learned that every single action should be intentional and meaningful. Without intent and meaning every action, unfortunately, seems like a waste of time. Honestly, at the beginning of first semester, I lacked this thoughtful approach. In turn, this led to dissatisfaction with the services I was providing the Grubb, Drake, and Des Moines communities. As I worked to find the meaning, purpose, and intent of my experiences, I started to feel passionate about the work I was doing. Going forward, I hope to find this type of motivation in every aspect of life.
#3: Find Comfort in the Uncomfortable
Throughout the last semester, I have been encouraged to step outside of my comfort zones in many different ways. At times, it hasn't been easy—I've had to answer the hard questions, confront my beliefs, and spend time honestly and deeply reflecting. However, as difficult as these experiences may have been, I've learned to find comfort in being different.
Last semester, the Engaged Citizen Corps thoroughly explored the values, privileges, and identities that shape the way that we, as members, do service. Yet, as we continued to learn about ourselves, I struggled to apply these concepts to my work at the John R. Grubb Community YMCA. Within the last month, though, I've actively worked to incorporate my strengths and weaknesses into my work. More than anything else, this has allowed me to find comfort, even when I'm at my most uncomfortable. It has allowed me to open up to the YMCA's students, staff, and community members. It has given me the chance to grow as an individual. In the future, I'm confident that this won't be the end of uncomfortable experiences. Now, though, I've learned to embrace experiences that bring uncomfortable feelings. 
For the rest of my life, I will be grateful for the opportunities that the Engaged Citizen Corps, John R. Grubb Community YMCA, and Drake University have granted me. Without these experiences, I would have never understood the profound impact of listening, intentionality, and being okay with being uncomfortable.