by Abigail Axell, Drake Engaged Citizen Corps Member
About Me
Hello! My name is Abigail Axell, and I am a first-year student at Drake University. I am currently studying Pre-Pharmacy with a minor in Spanish in the Health & Medical Professions. I am a member of Drake's Engaged Citizen Corps program, in partnership with Anawim Housing. Anawim Housing is a non-profit organization that provides permanent supportive housing to those in need. This may include individuals experiencing homelessness, living with a mental illness, fleeing domestic violence, and various other circumstances.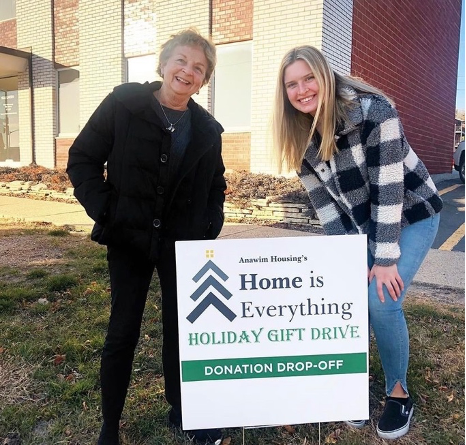 As for my work for Anawim Housing, I have major tasks as well as small, occasional tasks.
My main roles are:
Compiling Research on Best Practices, Policies, and Procedures
Formulating Research Documents on Various Topics/Issues
Creating Outreach Templates (social media, surveys, etc.)
Compiling Research on Best Practices, Policies, and Procedures:
At Anawim Housing, my main task is to compile research. This leads to consistent improvement of the organization. I coordinated and developed a literature review on the best practices for those formerly experiencing homelessness in a single site location. This mostly consisted of research on single site permanent supportive housing behavioral health disaster planning. Additionally, I coordinated and developed research for Medicaid billing within Iowa for both Mental Health and Substance Use outpatient treatment.
Formulating Research Documents on Various Topics/Issues:
I formulated many research documents to gain a better understanding of Anawim Housing. I gathered research on the HousingFirst approach and permanent supportive housing. I also formulated a document to find the comparative value between Anawim Housing and Iowa's local shelter services & JOPPA. To truly understand the struggles that some of our tenants may face, I also gathered research on the issue of Methamphetamines.
Creating Outreach Templates (social media, surveys, etc.):
A task that I more recently began taking on is creating outreach templates. I have formulated a social media post for the awareness of Anawim Housing's connection with Drake. It included the information that we were included in the CAB Craft & Learn Event and have a Drake Engaged Citizen Corps member. I have also created surveys to gather feedback about volunteering and outreach.
What I Have Learned by Being a Member of the Engaged Citizen Corps:
After completing my first semester, I already feel that I have learned significantly more from when I arrived at Drake University. I've learned about social issues, gained skills, and gotten some career direction.
Social Issues of Anawim Housing:
The social issues that Anawim faces and works to diminish are homelessness, racial inequity, poverty, and lack of affordable housing. I have learned that often these barriers for housing are solely based on the conditions someone was born into. This is complex because many people believe that people "chose" or "did something" to experience homelessness, but rather they could have aged out of foster care. The root causes of all these issues are the continual rising economy and redlining of the past, among other things. To address these issues, our site is continually working to provide more and more housing, as well as offer supportive services to get them out of systems built against them.
Skills:
The ECC program has given me immense amounts of knowledge and developed many of my skills. I have improved my understanding on key core values when working with those experiencing homelessness, including self-sufficiency, person-first language (describes what a person is dealing with, not who a person is), and empathy. One skill it has developed is my researching abilities. I had never performed research that is so meticulous and always a work in progress, but it allowed my research to be rich and vibrant with important information. Another skill I have gained is not being afraid to ask questions. This experience is entirely a learning opportunity, and it is important to ask questions to grow. Lastly, I improved my time management skills significantly. I have managed to make time for both my nonprofit and my rigorous coursework. These skills and knowledge will help me to be an active steward by making me more well-rounded, knowledgeable, efficient, and effective in terms of service.
Career Reflection:
I have always known that I want a career in healthcare. I personally want to learn more about how drugs, healthcare, and medical necessities come into play with those who experience homelessness as a potential future pharmacist. I have learned that I do not prefer office work or behind-the-scenes work, as for a career. I would like to continue to volunteer at non-profits, but not necessarily work for one.
Takeaways:
My biggest takeaways so far are home is extremely important, many are trapped in the system, and self-sufficiency is necessary in non-profit work. I will take this information moving forward to be more understanding of my future patients and understand why our systems are the way that they are. My role as an active citizen is to support those facing struggles/adversity and help them overcome. This year has helped define this understanding because it showed me a deeper look into non-profit work and the idea of toxic charity.
More on Anawim Housing:
People can learn more about our organization by checking out our social media or our website. This will include information on how to get involved with us and help our organization for the better.