Written by Amber Guzzo
Hello! My name is Amber Guzzo and I am a first-year student in the Engaged Citizen Corps. Along with about every other student here at Drake, my schedule is packed from morning to night taking classes I love and partaking in activities I'm passionate about.  Every week is a little different here on campus and therefore I am never bored. I am so glad I made the decision to come to Drake and to be a member in the Engaged Citizen Corps.
However, if you were to flashback to a year ago, I did not have the same amount of enthusiasm about coming to Drake, or for any school for that matter. I had applied to nine great schools, and I was stuck trying to decide the perfect fit for me. That was when I started doing research on all of the schools I had gotten into., and trying to narrow down what would be the right fit for me. I was very intrigued when I stumbled across the Engaged Citizen Corps program here at Drake. I have to admit, as cool as the program sounded, I was also nervous of the time commitment. In the end, I ended up applying with only a few hours left before the due date, and looking back, I am so glad I made the decision to do so.
After I had been accepted into the program, it was definitely one of the main factors that drew me to Drake. The fact that I was able to land an internship with a nonprofit my first year, and have the opportunity to explore Des Moines was such an amazing opportunity. I have grown so much personally this year, and I am so thankful for this program for helping with that growth. Not only that, but I also met some of the most genuine and kind people. I will walk away with some of my closest friends here at Drake.
Here are just a couple examples of the activities I have done through the engaged Citizen Corps in my first semester:
Civic Action Academy – Schools from all across Iowa and Minnesota came to Drake to learn how to be better civic leaders and it was a great learning opportunity.
Poverty simulation – One of my favorite experiences from my first semester. It was such an eye-opening experience of what it is like to deal with poverty. 
Bridging the Gap – This was an awesome experience where we as a group went to a town meeting to discuss better ways the City of Des Moines could build relations among different groups.
In our First Year Seminar class, "Toxic Charity," I was able to discuss some of the most important factors of serving others, especially those affected by poverty. I learned the importance of dignity, and how not all service is beneficial. My preconceived idea of serving the poor was challenged through this class which then aided me at my internship. We also had the opportunity to have guest speakers come to our class to discuss vital topics to serving others as well as being a good civil servant. Some of these topics included:
Equity and Inclusion
Privilege (and how we need to realize our own privilege to be able to use it to help underrepresented groups.)
Mental and physical disabilities
Now one of the most important parts of the Engaged Citizen Corps is my internship! I am so blessed to be placed at such a wonderful internship. I intern at IMPACT Community Partnership in Des Moines. The staff there has been extremely welcoming and kind, and I have enjoyed working there so much.
At IMPACT, we run a very busy food pantry, provide emergency services, disaster relief, and run the Low Income Home Energy Assistance Program (LiHeap) program for our region. LiHeap is a program to help families in the winter keep their heating bills down and their heat on during the winter. We work with local vendors to make sure if they are behind on a payment, that they still are able to use their heat until it is warm enough. We also provide a credit to their account, so their bills are more affordable. Weatherizing homes is another service we provide to a select amount of homes in need every year.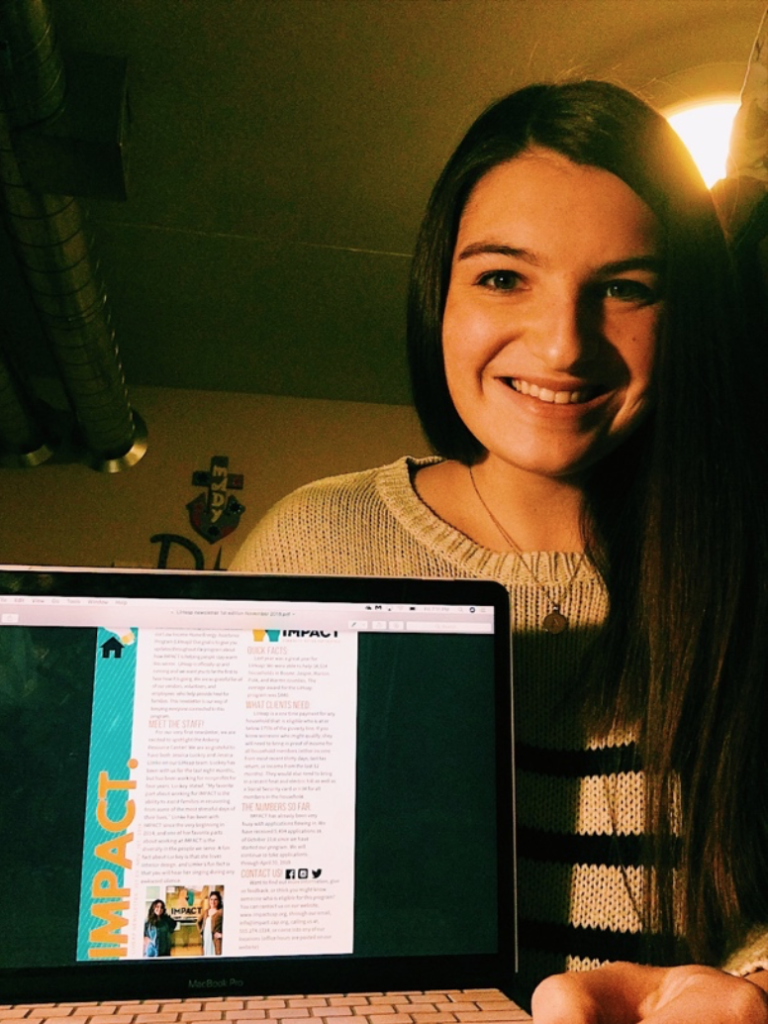 I have done a various number of tasks at IMPACT, but my biggest project is the newsletter that I put together every month. We send out this newsletter to local vendors we work with along with other local nonprofits to raise awareness about the programs we provide. I have loved creating our newsletter because I have been able to work on my marketing skills, while also learning about our various programs and learning more about our staff. This semester I will be working on a housing task force that our nonprofit has put together to work on housing issues in the Des Moines area.