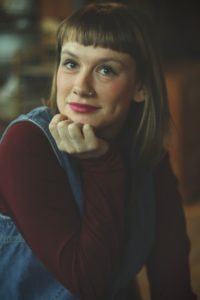 by Molly Brandt
My name is Molly Brandt and I am a senior at Drake University earning a Bachelor of Music with Elective Studies in Business (A.K.A. Music Business). I've been working in an informal way with The Des Moines Music Coalition (DMCC) for the past year and due to the withdrawal of one of the original ECC members I was offered the opportunity to fill her spot. The gradual growth of this Des Moines' access to arts has always inspired my studies and work and I've grown very passionate about the city of Des Moines with special regard to its arts and culture.
What exactly am I doing with DMCC? I will explain: Currently, the Des Moines city code (Sec. 10-8, Article E, 6) prohibits the presence of minors after 9pm in most music venues holding an active liquor license. This restrictive ordinance negatively affects the safety and retention of area youth, hinders development of the local music scene, and stunts Des Moines' cultural and economic growth. So I am helping The DMMC organize an All-Ages Campaign to change the city ordinance. In a typical week, I usually spend several hours in the office, located at the Mickle Center in the Sherman Hill. Sometimes we will have committee meetings on the all-ages issue. Last week was DMMC's annual fundraiser and awards show, the Backstage Ball, which was celebrating those in Des Moines who've helped build this city's music scene. I spoke at the event to attendees about our project and how to get involved. Lindsay Keast, DMMC's Outreach Coordinator, and myself often speak at smaller events around town. Other tasks during a typical week include: meeting with Drake Journalism students reporting on the project, working on marketing for upcoming events and the project as a whole,
The DMMC took on the advocacy project after previous unsuccessful attempts to create a realistic ordinance relating to live music for all ages. I've taken on the role as project manager to get the ordinance changed in 2017. The DMMC hosted our kick-off event to launch the campaign "Music For All Ages". The event entitled "Lights Out at Nine" on Thursday, Feb. 9th from 6-9pm at the local venue Lefty's Live Music, which is consequently one of the venues that suffers from this ordinance's restrictions. The event featured three young bands from Des Moines: high school female duo, Glitter Density, the always energetic brass band Grand Ave Ruckus, and another high school student, Carmelita. In addition to curating this event, I've been able to organize committee meetings and reached out to influential leaders in Des Moines as well as started researching the economic and cultural impact of this ordinance on the city of Des Moines and its cultural and artistic vibrancy. The goal for DMMC is to take this issue to the Des Moines city council, with support of the community, and large attendance at city council meetings to work to change the ordinance.
 If, "civic learning" is the democratic participation in the community, applied learning and social responsibility of the individual, then the all-ages advocacy project has certainly engaged with this idea. I have never, before now, tried to change a current law in a grassroots sense. It's 2017 and the processes of democratic change are in the hands of the people who can protest and work to change policies of local, state, and national government. Never in my life have I felt more engaged with politics as in the past few months. The American public is now realizing the power we have to influence policy-makers' decisions (whether they actually listen to those voices is the key). Amidst all the noise of national political news, I must work to make this issue relevant to local stakeholders and citizens. There's no doubt this is true democratic participation, through our future contact with the Des Moines Police Chief, city council members, and ultimately, the constituents.
Like many local issues, this all-ages advocacy idea does not live in a vacuum of Des Moines. We've seen this issue all across the United States. In an article from Minneapolis's Star Tribune, this same all-ages conundrum is explored through a venue and record store called Eclipse, catering now to all-ages:
"St. Paul and Minneapolis need all-ages venues like Tom Cruise needs Oprah. Since Eclipse closed, Minneapolis lost TC Underground, the Toybox and the Quest's Ascot Room. The lack of underage venues spawned a boom in (illegal) basement shows, causing more problems with noise complaints and underage drinking.
'Most of the clubs would love to do more all-ages shows, but in these hard times it's hard to host them,' said Triple Rock staffer Kermit Carter, whose band Superhopper rocked Eclipse last Friday. 'We're excited as all get up that Eclipse is back. In theory, we can scare up some new fans here who can't see us anywhere else.'"[1]
Similarly, in other parts of the United States, this same type of grassroots advocacy approach to all-ages access to music has taken hold. In Seattle, Washington, the All Ages Movement Project is "a network of 200 community-based organizations across the U.S. that connect young people through independent music and art. AMP is committed to making sure young people can access and participate in music scenes in their communities. AMP's web site includes The AMP directory that links to more than 200 all-ages punk, hip-hop and indie venues as well as youth-run recording studios and art galleries, searchable by city, genre, and other terms."[2] According to AMP's website,
"AMP believes that music communities have within them the potential to create change. Unlike other communities, music communities are exceptional at reaching young people, because they are essentially created by young people. AMP organizations work hand-in-hand with these music communities, opening doors for young people to get involved and build skills for the future. We use culture (music and art) as a vehicle for community change and use community organizing as a vehicle for cultural change."
I've learned that this issue plagues other cities and there are steps by organizations to change these laws and ensure access to arts and culture. The organization is proof that community political change is a catalyst for cultural and artistic change and that grassroots support of not only constituents, but public officials can promote this change. I've also learned that we are not alone in this fight and the fight is continuous for ensuring access to culture for our city's youth.
Academically, this internship with DMMC is the perfect capstone to my entire college career in the Music Business major. Like I've said, DMMC is an organization I've admired for many years and truly believe it's exactly what I've been working towards ever since I decided Music Business was my life's calling. Working in real time with festival planners, board members, policy makers', committee members, young people, and musicians is something you simply cannot experience in the classroom setting. That's not to say my classroom curriculum has been for naught. The internship has opened my eyes even further to the world outside of Drake and has allowed me to work on an entirely unique project with a high level of autonomy.
Since beginning my endeavors with this project and the DMMC, I've already gained a high level of personal growth. Lindsay has been an amazing teammate and role model. She's helped me get involved with projects outside of the advocacy campaign, with DMMC's festivals and education programs. In my work with DMMC I've been able to interact with DMMC board members, influential leaders in Des Moines, and musicians/artists who similarly care about this issue. I'm getting a better idea of what it really takes to garner support for a grassroots movement. Through our event at Lefty's, I experienced the process of actually planning a music event, booking bands, and especially marketing the event (with significant help!).
Personal growth can be hard to measure, but I know that I've felt a great sense of confidence and accomplishment with this organization, which has inspired me to drive this project with more fervor and passion than before. Self-doubt plagues many of us, and definitely myself included throughout my college experience. However, I feel that the empowerment of this project, through an issue I care about deeply, I have shed some of that crippling self-doubt. I've grown in my ability to speak publicly about this issue for large and small audiences, which is a fear I often used to dwell on – but not anymore! I've grown in my ability to take initiative without prompt, stay organized amidst busy times, and work in a successful and cohesive team.
My goals for continuing the project are to make the process as organized and transparent as possible. I want to expand my research to the economics of the music scene in Des Moines, strategic city plans in place for change (e.g. Capital Crossroads 2.0), venue data, and input from young people. I hope to use these resources and ample backed-up research to bring a convincing argument to city council and ultimately the citizens of Des Moines. I hope to work closely with the DMMC board of directors, my committee members, and Lindsay Keast to make sure we are doing everything we can to get this ordinance changed. In the process, I hope we can bring more overall awareness to Des Moines regarding the music scene and our desire overall for diversity and inclusion. I'm extremely excited to continue this work for an organization I love and a city I call my home.
[1] Chris Riemenschneider, "Can Eclipse rise again?", The Star Tribune, 2008.
[2] All Ages Movement Project, http://animatingdemocracy.org/organization/all-ages-movement-project, accessed February 27, 2017.