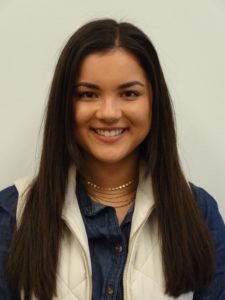 By Maiya Mindoro
My name is Maiya Mindoro and I am a first year student at Drake University from the Boulder area of Colorado. I am pursuing majors in marketing and politics. Through the Engaged Citizens Corps program I have been working with the Community Housing Initiatives (CHI). This nonprofit deals with providing affordable housing for the citizens of Iowa. I work alongside the Resident Services Director specifically creating programs to help residents get out of the cycle of poverty and succeed while they are living in CHI housing and beyond.
Since 1994 CHI has produced affordable multi-family rental housing, with a special interest in the preservation and conversion of historic buildings. Iowans who have incomes at or below 80% of the area median income level are able to live in these homes. In these communities the Resident Services Department provides social service programs to engage residents with their neighborhoods, offer free supportive services, enrichment activities and more specifically focusing on the youth and senior populations.
One CHI Resident Services program is called East High Cares. EHC is a leadership development program reinforced through volunteering at East High School in Des Moines. East High school is located in the Viva East Bank area where CHI is a partner with other nonprofits with the goal to help revitalize these neighborhoods. EHC tackles many different areas including homelessness, animals and youth. A large project this year has been on the topic of hunger and food deserts. "Food deserts are defined as parts of the country vapid of fresh fruit, vegetables, and other healthful whole foods, usually found in impoverished areas. This is largely due to a lack of grocery stores, farmers' markets, and healthy food providers" (American Nutrition Association).
There are 14 areas of Des Moines that are food deserts and the Viva East Bank neighborhoods specifically are food deserts. 45,000 Des Moines residents are impacted (Adam Krause, Prezi). Having quality fresh-food at meals is not generally feasible economically or due to accessibility. At Hyatt Middle School in Des Moines there is a community garden which was created to help those affected by the food desert. The garden is open to the public and produce is replanted each spring by the middle school. East High Cares created a mural for the garden last year and currently are working on a recipe box for the garden. This recipe box contains recipes books using the food that is found in the garden and is stored in a Little Free Library hand painted by EHC. We visited the garden and looked at what fruits and vegetables were being grown to know what recipes to put in the book. All of the students researched recipes, gathered them from their families and asked community members in order to create this book. The book is being put together by students as well. Finishing touches are being painted on the library including the Des Moines skyline, flowers and words like "Free Recipes". Lots of effort is being put in by EHC to help the community understand and use the garden more.
Even though the community garden is free and open to the public, it is not used nearly enough. The garden is overgrown and underappreciated with a plethora of produce going to waste. Apart from some community members not knowing they are allowed to enter, many do not know what to do with the produce that they find. When EHC toured the garden many students could not identify what all of the produce was. I was the only person who knew what a tomatillo was, even most of the adults thought it was just an unripe tomato. If students knew what a food was it would be rare for them to know what recipe they could use it for in most cases. Many of the kids in the program are my age or not too much younger than me; even though I am in a leadership and facilitating role I can be considered a peer. It is interesting the differences in exposure and knowledge that we all contain just due to where we grew up. There is not a large amount of exposure to fresh fruits and vegetables in the schools or homes of these students; even though this project is for the community, research and exposure helps the EHC students just as much.
The EHC neighborhood is a food desert, a desert in which inhabitants do not even realize they are in. The reactions from the students reflect thoughts and mindsets similar to many people in that community. When we explained what a food desert was it was a new concept to all of the students. But they were easily able to connect the definition to characteristics of the area surrounding East High once we discussed it further. That is why helping bring attention to the garden and keeping it attended to is so important. Everyone deserves access to fresh food. The food in the garden is already there and just waiting to be used by someone who needs it. Giving knowledge of produce through recipes is valuable for the community and youth as well. These recipes and the bright little free library are attempts to help neighbors get out of the food desert and into the community garden. Healthier and better balanced lives along with economic advantages come if the community garden becomes utilized.
EHC is a small part of CHI that makes a big difference in the lives of East High School kids. And projects like the recipe box affect more than just them, a whole community benefits off of the work that they do. Through my work with CHI I am able to see the little things and the big things and understand why each are so important. I did not know what a food desert was before this task, I was never affected by one. But moving into one and seeing first hand people impacted by it makes working to improve the situation much more meaningful. Sometimes seemingly smaller services and tasks have a bigger impact and a larger ripple than an outsider looking in could imagine. That applies to the political climate currently and how nonprofits in general are not going to be getting the funding in which they have in previous years. Programs like East High Cares will possibly be cut or no longer be part of CHI because the funding is simply no longer there. The nonprofit has to make hard choices in order for the doors to stay open. The kids in EHC won't be able to have their space to enhance their leadership or help the community. EHC is also a home for the kids; a place not easily replaced because it's their "people" along with all other positive things the program gives them. The loss of EHC will hit hard for many kids.The thought of letting EHC go is a very difficult one for the directors involved as well.
Education is extremely important. Educating the community surrounding East High school along with the members of EHC is the most important task we can do at CHI before the possible split from the program. On the topic of food deserts and every other issue that we tackle as a group. Knowledge is power and we have the ability to give that power. I will continue to learn about issues new to me or that don't affect me personally by getting out of my comfort zone so that I can help pass it along to others who will use it. Even when issues do not affect you personally, they can change the life of someone in your own community. The kids in EHC are an above average group of leaders who will go on to do amazing things with or without the program, but educating them as much as possible before will only help. CHI aims to help the people they work with live the best life possible, I know without a doubt that East High Cares fosters that goal.