Hannah Skarstad, Engaged Citizen Corps member
Hello, my name is Hannah Skarstad. I am a current freshman in the Engaged Citizen Corps (ECC), majoring in Computer Science and English. The site I got partnered with for ECC is the Center for Social Ministry. The Center for Social Ministry provides poverty awareness and social justice education programs. They serve as a key resource to help individuals connect to programs, volunteer opportunities, and advocacy efforts.
The Center for Social Ministry administers programs rooted in Christianity using the curriculum of JustFaith Ministries. The Center was founded with the mission to bring these programs and teachings to the Greater Des Moines area.
Some of the social justice issues these programs focus on are:
Poverty
Racial and Economic Justice
Environmental Stewardship
Faith and Racial Equity
Migration
Food Insecurity
The JustFaith curriculum is offered to participants in two formats – JustFaith and JustMatters programs. JustMatters allows small groups to give sustained attention to a specific area of social concern or social ministry, culminating in a call to engaged action.
Another main component of the Center for Social Ministry is Rethink Poverty Simulations. Rethink Poverty Simulations are based on resources provided by the Missouri Association for Community Action. The simulation allows people to think about the harsh realities of poverty and to talk about how communities can address the problem. Poverty is often portrayed as a stand-alone issue but this simulation changes that thinking. It allows individuals to walk a month in the shoes of someone who is facing poverty and realize how complex and interconnected issues of poverty really are. The goal of the simulation is to increase awareness of the hardships that people facing poverty battle daily. The simulation was designed to spark conversations about large social justice issues like poverty and break them down into manageable action steps. 
Throughout my year working with the Center for Social Ministry, I have accumulated a lot of knowledge concerning non-profit sectors and social justice issues. How I have learned about each of these subjects has varied greatly. I have learned about the non-profit sector through observation and experience. On the other hand, learning about social justice issues has come in a more direct format. I have started reading books that focus on these issues. These books are also read by the participants enrolled at the Center for Social Ministry. The amount of knowledge I have gained, simply from reading about these topics, is significant. Simply being exposed to literature pertaining to these issues has helped me to understand the work my site does, while simultaneously igniting my own passion for the work we do. 
Throughout my year, I have learned a lot about professionalism and the non-profit sector. The main way I have been able to grow these skills is through my tasks completed at my site. The work I complete at my site consists of:
Creating social media content.
Helping with our database transfer.
Recruiting and managing volunteers.
These tasks were completely new to me. Thankfully, the ECC program prepared me to take on these projects and many others. I was also able to gain experience at the Center for Social Ministry office. My site supervisor has been willing to help me understand the processes that encompass all the work we do and cater my work to areas I specifically want to work in.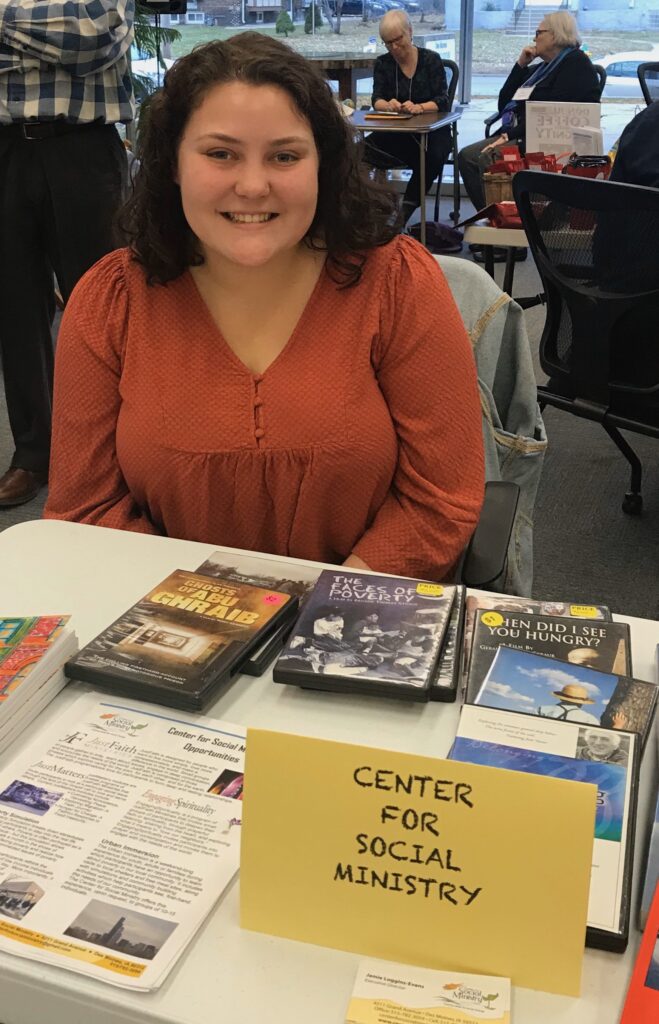 My favorite part of this experience has been interacting with the Center for Social Ministry's community. The photo above was taken not long after I began working at my site. This was a chance for me to get out of the office and increase both awareness of my site and understanding of our community. In this time, I was able to have conversations with a multitude of people. I learned about social justice issues that were still new concepts for me to investigate. I learned about social justice programs and work happening within the Drake community. Overall, the ECC program was a great stepping stone to increase my efforts as an engaged citizen and connect with the Greater Des Moines community.