Hi everyone!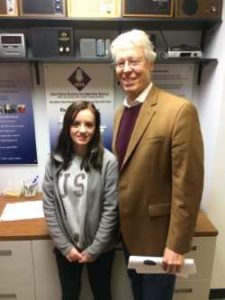 Following my acceptance to Drake University in 2016, I had mail coming from the university almost every week. Pamphlets, brochures and flyers all began piling up on my desk, but one item really caught my eye. One of the pamphlets contained opportunities for service learning at Drake and after coming from a high school with a service learning curriculum I was intrigued. Service learning had given me some of my most memorable experiences in high school, so I wanted to be able to continue service learning in high school. I decided to apply for the Engaged Citizen Corps (ECC) program that was listed in the pamphlet because the idea of being with 9 or so other first-years that were as passionate about service learning excited me. I hoped that the program would allow me the chance to make friends with other students that wanted to be engaged in their community.
Now that I am almost done with the ECC program, I feel that I have gained so much more than just friends. As part of ECC, I have had the opportunity to intern at the Iowa Radio Reading Information Service for the Blind and Print Handicapped (IRIS), which is a non-profit that reads print materials over the radio to those who would be unable to read them on their own due to blindness, visual impairment or a physical disability. Through interning with IRIS, I have made connections with people off the Drake campus and have learned about disability access. I feel that my internship with IRIS has personally popped the 'Drake bubble' for me because my eyes have been opened to so much that goes beyond campus life.
One of my most memorable experiences with IRIS was helping with the coordination of the Big Band Bash in the fall. I had a lot of responsibility put on me because I had to make sure the minor details of the event were taken care of prior to arrival, assist in photographing, checking people in and helping the guests. I was pretty nervous about the event, but I put all my effort into it and later my director, Maryfrances, thanked me for everything that I had done! I felt a lot more confident following the event and was able to see that although I was young that I could be a great help to my internship. I also was able to mingle amongst the guests at the event, many of whom are blind or print handicapped. Through this interaction, I was able to learn more about the blindand print handicapped community in Iowa and really understand the importance of the service that IRIS was offering them. Many of the guests exclaimed their thankfulness for IRIS which made me realize the importance of disability access.
While the Big Band Bash stands out in my mind, a lot of my time at IRIS has been spent doing more "behind-the-scenes' work. As an intern, I am tasked with the responsibility of making the organization run smoother and often that means getting things ready for the director. I have played around with a lot of different software programs, tinkered with radios and made tons of excel spreadsheets. While initially I did not see the importance of the work that I was doing, I began to see how important it was to my director. As I worked on small projects, it saved her time and she was able to do more things important to running the organization like applying for grants. I've realized that when you're working the small tasks may seem unimportant, but they contribute to the larger goal of the organization.
The other component of the ECC program outside of the internship is the curriculum at Drake. As an ECC member, I have taken a seminar class specific to ECC each semester, an FYS about the common good, and am currently in a Sociology class about social problems. In the FYS, we read Toxic Charity and discussed the importance of service that empowers those who you are serving. I was able to draw connections between what I was learning in the classroom and what the work of IRIS was doing. I saw how IRIS empowered its listeners by giving them access to information that they would be unable to do on their own. Using this information, they could make informed choices about politics, their community, current events and even know what the deals are in the grocery store! I also formed strong bonds with the other ECC members through talking about our personal beliefs and experiences. My personal beliefs were challenged and opened through our dialogue.
I am grateful for my experience in the ECC program and plan to continue my service-learning next year as the Student Learning Ambassador for IRIS at Drake. I hope to spread more information about the importance of disability access and encourage other students to become involved with the work that IRIS is doing. I hope to expand on what I have already learned through ECC and continue to grow as both a student and a public servant to my community. I hope that next year's class of ECC students have the same great experience that I had!
Written by: Katie Carlton