When I opened the email about the Engaged Citizen Corps last year, I thought I was just clearing more "college propaganda" (as I like to call it) out of my inbox. Little did I know, my decision to actually engage in the content would lead to a defining program of my first-year experience. The Engaged Citizen Corps is a holistic program where you work, live, and learn in the same environment of your cohort. Through a mutual pairing process, each member is assigned a local non-profit agency in Des Moines. For me, this meant that I would be working with Anawim Housing, an affordable housing and homelessness outreach non-profit, to complete my 300 hours of service as an AmeriCorps member. Though the face value of 300 hours seems a bit daunting, it truly is necessary to connect with the organization on a deeper level. But what does this actually mean? It is easy to get caught up in the opportunity to build your resume especially as a first-year, but this experience is far more than another line on your resume.
Let me preface my experience by saying that I had virtually no expectations for this program. I had done internship programs before, so I already knew the importance of keeping an open mind. So, I kept it simple. I looked at this as an opportunity for growth and education. Having never been to Des Moines, I thought there was no better way to become acquainted with the problems and struggles facing the community. This was exactly the outlook I needed. Going to Drake, it is rather easy to get caught up in the micro-community of the campus, but it is important to remember that people's entire livelihoods exist beyond the confines of the campus.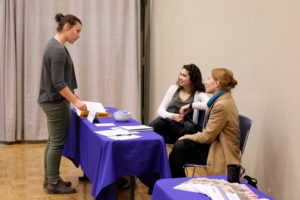 These "livelihoods" that I describe are often wrongly stereotyped especially within Anawim's tenant basis. Though these people may be experiencing drug addictions, alcoholism, single parenthood, etc., they are not lazy, helpless scum. They are just people who have been bogged down by society's unequal distribution of resources. With a deepening gap between the haves and the have nots, they feel the inescapable burden the most. Non-profits like Anawim are designed to provide opportunities to those who might not otherwise get the chance. But, it is important to note, that even Anawim's programs do not extend to everyone. These man-made boundaries put people at risk for an on-going cycle of self-hatred and frustration. I regret to say that it is this that results in giving up. In doing so, people experiencing homelessness accept the wrongly attributed labels and become what they are described. This is not their fault. It is ours – for not speaking up or changing our language (one of the most powerful tools we have).
Seeing the narratives of Anawim's clients – those who have experienced homelessness and those just in the need of reduced housing costs – I have begun to understand the diversity of Drake's surrounding community. Without this experience, I would imagine that I too would be swept up in the luxuries of a small, private, liberal arts university. But instead, I have had the privilege of truly assimilating into the community and recognizing the importance of changing my dialogue. Though I may just be the "intern" at Anawim, I am doing so much more. I am documenting histories and completing tasks that aid in the overall functionality and vitality of the organization. I am educating myself and preparing to educate others. I am connecting.
Nonetheless, I know it is easy to get caught up in my story or the stories of the people, but it is important to also reflect on your own personal impact. It may seem like as a single entity you have no ability to affect change, but you do. It is this flawed thinking that is perpetuating our systems of inequality. Active reflection and implementation act as counter measures to the superficiality that is plaguing our nation.
To bring this full circle, let me return to Drake – what it means for the campus, for the students, and for the surround community. The Engaged Citizen Corps is not a program of single-student reflection in the community. It is a program designed to bridge the gap between Des Moines and Drake. For me personally, this has resulted in the pursuit of leadership roles in various organizations on campus where I can affect change within the realm of service and beyond. It means planning service events not only for the women in my sorority but also the greater student body. It means encouraging active education about issues and inspiring the pursuit of individual passions. It means making service a desire not a requirement. Together, we can inspire activism, advocacy, and service on campus with the purpose of translating it elsewhere as well. We have the privilege to serve other people, and we shouldn't take that lightly. To that, I am going to leave this blog post with one final remark – "community service has to be less about random acts of kindness and more about strategic acts of justice," (Wayne Meicel).
By: Brittany Freeman