My last fall break as an undergraduate student was lavished with lessons deep.
Unlike all the others, I was not stuck in a time warp, endlessly arguing with my brain that I did deserve the luxury of spending my two days off being non-functional (after all I had worked oh-so hard) and binge watching every drama and anime under the sun. On the contrary, I was entangled in the hustle and bustle of being a member of this society and realising harsh truths.
Let me rewind.
*********
This semester, I have the opportunity of working at the Community Engaged Learning Office and being a Student Learning Ambassador. Part of my responsibilities included organising a fall immersion project that would take place over the fall break – October 16 and 17. The plan was to attend the Iowa Hunger Summit and help at Bidwell Riverside on Monday and be out in the farm at Lutheran Services of Iowa – Global Greens on Tuesday. We had three people for the first day and six for the next.
Now, let the raw, blunt, brilliant story of my fall immersion project unravel!
*********
MONDAY, 16TH OCTOBER
"The Iowa Hunger Summit gathers leaders from across Iowa representing community organizations, business and industry, state and local government, social agencies, churches and religious communities, schools and universities, civic and social clubs, and other individuals and groups that lead or participate in projects to confront hunger.
The World Food Prize was hosting the Iowa Hunger Summit on Monday and it was a great opportunity to learn about hunger – which was the issue that we decided on exploring! The event ticked standard checkboxes of events: welcomes, thank you's to the sponsors, introductions, and so forth. In the process, somewhere after the five Secretaries of Agriculture were introduced and their panel discussion were to begin, we blundered head-on to a group of amateur protestors. The only thing I gathered from their cries and sign was the word 'GMO'. Frankly, there were only about 9 and they didn't make a huge fuss and quietly left when escorted. I guess, my senses must have temporarily shut down with misplaced excitement (though I am glad no one was inappropriate or forgot civility).
Once they were cleared from the room, it was time to move to the next item in the agenda: The panel. As with any instance where politicians are involved, there were points I agreed with and points that made me wish all officials in power had an obligatory 'spend a life in the day of' imposed on them, to be grounded and connect proposals to reality.
Anyway, the most remarkable aspect of the summit was its lunch.
It was a horribly brilliant lunch.
Trust me – I need the oxymoron. Now, the tradition at any summit – and the favourite part in many person's day – is a delicious lunch. However, I was attending the hungersummit and I went in expecting -despite being informed- for a five-star lunch (there's another lesson here: how many of us make poor choices despite being informed?) Our lunch was donated by the Outreach Program – a program much like the Meals from Heartland where the struggle to end hunger and provide meals to those in need is endless.
When our meals were served my moral imprimatur crumbled into pieces.
I've volunteered twice at Meals from Heartland and it doesn't take a genius to figure out that whatever is being packaged is an ocean away from being appealing to the taste buds. Nutritious? Maybe? A meal that you and I can have on a regular basis? *cricket sounds* I have been lucky to be raised on delicious, nutritious meals and that is maybe what prompted my reaction… but I was not the only one in the room. In hindsight, after each hunger related volunteer session, there was a moment of gloved hands saying 'cheese' and eternalising the moment when I've done a oh-so great deed! I have never been the sort to shy away from being grateful but when the going gets a bit rough, it is easy to forget to appreciate and easy to complain. I was instantly grounded.
We were served the same lunch that we would have otherwise been packaging. I am going to be blunt about it: I could not stomach the meal and for the first time in forever, I left half the plate untouched (Suddenly, I could no longer hear my parents' voices constantly ringing in my head saying: never excuse yourself from the table unless the plate is clear). Many people in the room didn't take more than a couple of bites. Some people even had a snack bar in their bags. I heard from several past attendees of the summit that the organisers were generous this year. There was a time when all you got was corn juice or only a third of your plate was filled.
We did luck out when it came to portions. We had a decent serving to settle any hunger… that is if you could numb your taste buds and swallow. You know what's funny? The meal was not as atrocious as I might have made it sound but I was so used to a certain kind that I simply could not think of eating what was in front of me. Whoever came up with this idea for the hunger summit deserves a medal for creativity and is the master of 'driving a point home'. There are a couple of important lessons here, but I am going to save them for later.
The rest of the summit was a conglomerate of break-out sessions and were equally informative. Afterwards, we headed off to Bidwell Riverside Center. I had managed to string along another friend to help at the site! Yay me for being social!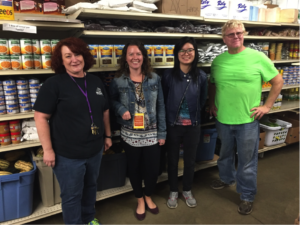 "As long as the need exists, Bidwell Riverside will continue to provide food, clothing, child care, and hope to all"
Bidwell is located on Hartford Avenue. It has a long history starting in 1983 and by 2012, the center was helping 867 families in need with three different services – food and clothing, children's day-care, and bedding. The center welcomes all and makes it accessible to everyone who needs help.
That evening we were in charge of stocking up the empty shelves with the donations they had received from DMARC and others. I was worried that 3 pairs of hands would not be able to do much but, once we got to work, after about 30 minutes of learning about Bidwell, time disappeared to the extent that the next time I blinked, it was already the end of our shift. Amongst the three of us, we restocked three shelves. Chicken broth, beef stew, cans of peach, there was so much… and it was positively brilliant!
Missy, our point of contact at Bidwell, was very helpful in showing us what the impact of our help meant to many families. She talked about how unfortunate it is that there should be the need for such centres in the world, but the fact of the matter remains that this is the way the world functions.
********
Tuesday, 17th October
On Tuesday, we set out bright and early – around 9AM to the Lutheran Services in Iowa Global Greens Farm in West Des Moines. We started off a bit chilled from the wind but as we were shown our task, we deemed the weather perfect. In front of us were 2 huge gates that needed repainting, and to be able to do that we needed to scratch off the old paint and rust, sand, wash, and more before proceeding to paint. After a small introduction by a person in charge, Jess, we divided into two groups and cracked some muscles.
In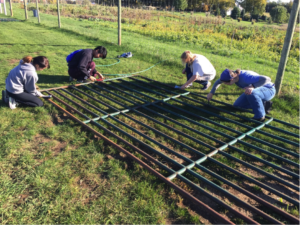 between metallic scrapes, Jess told us that LSI's refugee population comes mostly from Bhutan, Burma, Burundi, and Rwanda. A lot of them were farmers in their homeland and they are overjoyed to be able to create a piece of home and familiarity in America through the Global Greens Farm. Being able to farm goes beyond sentimental value. For some families, it is their income. Knowing the importance of financial stability they toil in an attempt to create a living – harvesting crops and selling at the farmer's market downtown or on University Avenue. All the while juggling adapting to a new country, language, and culture.
Under the warm autumn sun, we scraped, dusted, and sanded the gates for three hours (though our group – working on the second gate – took about an hour to make a dent of progress). However, as noon rolled around, one of the gates was almost done. An outsider can be deceived into thinking that not much was done but, that day, we contributed in a meaningful way and most importantly – in a way the community partner needed us to. We were working with them.
********
Reflection
A few paragraphs ago, I mentioned that there are important lessons with each volunteer opportunity. The take away can be different for each person but this fall break as I reflected on hunger, refugees, and volunteering, there are two conclusions:I promised you a honest reflection and here are my raw thoughts:
Hunger – in the entirety of its definition – is real.
Simple volunteering without reflection is like a pendulum that does not swing.
It is a fact that each person is on a different step on society's ladder. Some are more fortunate than others – maybe because of something we did or maybe not. However, I think, that those of us that are a step ahead, should definitely keep climbing – but carefully reaching out to the person stuck below will not lead to a fall. If the ladder you are on is treacherous and you are at a risk of losing footing, the least you can do is appreciate that you are climbing up until you are stable and then turn around to help someone.
Most often, people think that being grateful and appreciating what you have is equivalent to feeling guilty for enjoying life. That is the most ridiculous thought I have ever heard. If you are able to afford a meal at an expensive restaurant and eat delicious food, by all means do so. You only have one life after all (throwback to the YOLO days). However, if you gloat and turn a blind eye when you know and see that you can help then… take a step back and reflect.
Segwaying into my second point: community service can be ugly. Fleshing this out will require another thousand words but as another blogger mentioned "your great work might not be so great at all" and reflection of the volunteer moment is as imprtant as direct service. Always reflect on identifying if you didin't unintentionally leave the person you are trying to help suffering. A picture might be worth thousand words but a person's eyes speak a million.
I am going to overlook philosophical debates when I form my next sentence. We are all rational to a certain degree and all have the free will to choose and be deliberate about our actions. Hence, we should be wise and extend a hand, all the while keeping in mind that helping someone whilst unable to help yourself is a slippery slope. As hard as it might be: Be realist.
Written by: Chamindi Wijesinghe