By Kristina Nikl, P3 student at Drake University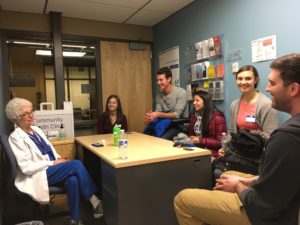 The Des Moines Student Healthcare Partnership, which is a collaboration between Drake pharmacy students, Drake OT students, DMU DO students, DMU PA students, and a variety of nursing students from Grandview, DMACC, and Mercy College in Des Moines, joined together for a service-learning opportunity at Central Iowa Shelter and Services (CISS) on Friday, March 31. We prepared and served dinner to the residents of the shelter, and had the opportunity to have a discussion/reflection session with Deanna Lehl, one of the healthcare providers that is employed by Primary Healthcare and works in the clinic at the shelter. This event impacted both the community, as it helped provide resources to those in need, and our group, as we increased our cultural awareness and learned more about people who face homelessness and about their access to healthcare services. From Deanna, we learned about the challenges that come with providing healthcare to this diverse patient population but also about how rewarding it can be.
Throughout this event, we were able to learn about homelessness by directly interacting with people who face homelessness, as well as by interacting with staff at the shelter. We interacted with the residents of the shelter as we personally served each of them. We interacted with the staff in the kitchen of the shelter as they helped us prepare the meal and clean up the kitchen after the meal. Conversing with these staff members gave us a perspective of what it is like to prepare and serve meals on a daily basis at the shelter. We also had the opportunity to see the clinic and ask Deanna questions about the clinic and the patients she sees. This direct interaction with the shelter residents and the staff at the shelter allowed our learning and reflection to be an important component of this event.
The Des Moines Student Healthcare Partnership was a recipient of a service-learning mini grant from the Office of Community Engaged Learning and the Community Action Board.